Greetings!
PRIDA is pleased to bring you this new endeavor. This is our very first publication of a Puerto Rican Author Newsletter, which will be published monthly. Our newsletter will feature PRIDA Authors and the PRIDA writing community. We know there is a world of interest in our member authors and their literary work and are pleased to feature these artists to the world at large.
Each issue will cover a highlighted author with his or her works as well as other announcements of relevance to the writing community. En la union esta la fuerza. We can lift each other up by supporting our own work and promoting ourselves within our individual communities. We encourage you to share this newsletter with friends so we can highlight our member writers.
---
MEET AXEL GARCIA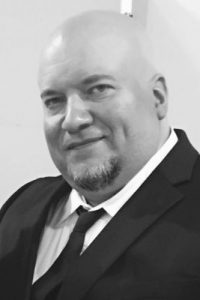 Meet PRIDA member Axel Garcia. Axel is this month's featured "Boricua Author Everyone Should Read." He is also celebrating the release of his latest book, The Long Journey: an Anthology. We are pleased to kick off our PRIDA's Book Club with Axel who has also participated in Comite Noviembre's Puerto Rican Author Book Expo at Hostos Community College.
Axel is well-known in the Puerto Rican poetry and writing scene. He is a safety fire director by day and a dedicated writer by night with over 20 years experience. He focuses on writing free form poetry. Axel has published a total of four titles; In Life and Love, Through Different Eyes, Poetics, Poems of Renewal, Redeemed, and The Long Journey.  He currently resides at Harriman, New York, but was born in Brooklyn to Puerto Rican parents who hailed from los pueblos de Enseñada and Camuy, Puerto Rico. He tells PRIDA that he loves to write about and for God and is inspired by the facets of living and loving. He garners inspiration from his experiences as a musician. His favorite Latin@ author is Miguel Piñero because, as Axel puts it, "Miguel Piñero is raw, proud and it shows throughout his work. He is unapologetically Puerto Rican in every way." Axel's favorite Puerto Rican dish is arroz con habichuelas y pollo empanizado.
You can find Axel online at his website: http://www.garciaaxel.org, on facebook under Garcia.Axel.Writer, and on twitter @Malcolmaxe as well as on Instagram @axe.garcia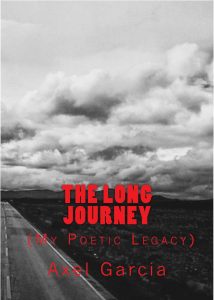 The Long Journey (My Poetic Legacy), by Axel Garcia
Axel takes us through the journey of his poetic life, mixed with religious and spiritual content. An in depth look into who and what he is.
BUY NOW: e-book format for $9.99 at: Amazon.com
---
SEND US YOUR NEWS!
Hey there PRIDA Authors! Did you publish something new? Did you recently receive an award? Are you going to a book fair? Do you know of a writing fellowship or grant application you want to share with the rest of the Puerto Rican writing community? Do you know of a writing competition or a submission deadline? Do you possess any other golden nugget of information that could help a fellow writer? Share with us so the blessing can be sent back to you tenfold.
Send us your literary news and we will gladly share the information with our readers. Send email to: PRIDA member Yadhira Gonzalez-Taylor at ygtbooks@gmail.com and we will publish your news.
---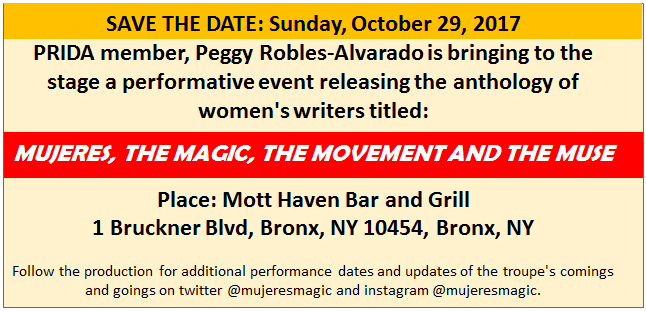 ---

Featured Books by PRIDA member Authors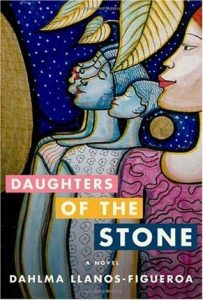 Daughters of the Stone, by Dahlma Llanos-Figueroa
Mid-1800s, Fela, taken from Africa, a slave at a sugar plantation in colonial Puerto Rico, has a secret. Read about the lineage of daughters connected by their intense love for one another, and the stories of a lost land, about healers and craftswomen about bi-cultural journeys and the wisdom of womanhood.
Finalist for the PEN/Robert Bingham Fellowship for Writers
Price: Varying Prices from Amazon
Get the book at Amazon.com and Museo Del Barrio. Note: 2nd Edition coming soon!
---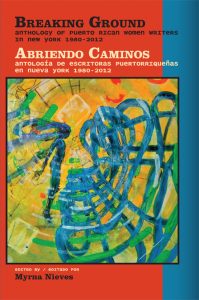 Breaking Ground: Anthology of Puerto Rican Women Writers in New York 1980-2012/ Abriendo Caminos: Antología de Escritoras Puertorriqueñas en Nueva York 1980-2012, by Myrna Nieves, Ph. D.
This anthology presents the wide spectrum of poetry, poetic prose and fiction produced from 1980-2012 by 46 Puerto Rican women writers in New York. Some write in English, others in Spanish and a few of them write in both languages. The book also includes biographies of the writers, documenting their activism and offering a glimpse at their role in the artistic, social, political and intellectual history of New York's communities. This splendid literary wealth creates a context for the appreciation of emerging works and the discussion of issues of literary criticism that can spring from the texts themselves.
BUY NOW: $35.00 from Amazon.com
---
Símbolos Taínos, by Tanya Torres 
Simbolos Tainos is an 86-page paperback with Taino symbols, which encourage artistic expression through coloring and creating other art honoring and remembering our ancestors, the Taino.  Curated with love by PRIDA artist and author Tanya Torres.
Available by order from Tanya Torres at tanyaetorres@yahoo.com or  Lulu.com
---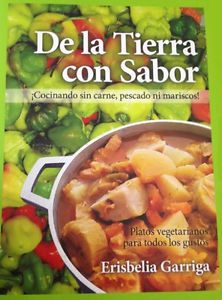 De la Tierra con Sabor, by Erisbelia Garriga
Segunda Edicion (Espanol) 328 pages, 247 recipes. A vegetarian recipe book with vivid photography covering our national traditional food without meats, fish, or shellfish. Erin says, if you are not a vegetarian you can still enjoy these recipes as accompanying dishes.
Available at: La Marqueta, El Museo del Barrio, Kitchen Arts and Letters Bookstore, Amazon.com, myborinquen.com, and www.eriskitchen.net
---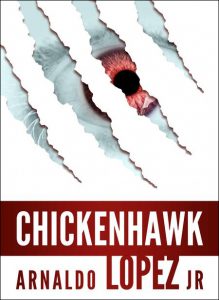 Chickenhawk, by Arnaldo Lopez Jr.
300 pages. Two Manhattan North Homicide detectives, Eddie Ramos and Tommy Cucitti, hunt a serial killer after a a spree of killings of young prostitutes.
BUY NOW online at arnaldolopezjr.com or Amazon. Available at Amazon in Kindle for $7.99 or Paperback for $17.53
---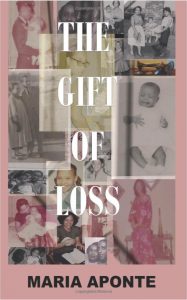 The Gift of Loss, by Maria Aponte
118 pages. The memoir of a Puerto Rican woman coming to terms with parental loss at a young age that transcends significant moments from the author's childhood through young adulthood. Poetry and personal reflections of struggles and survival.
BUY NOW from Amazon for $15.00
---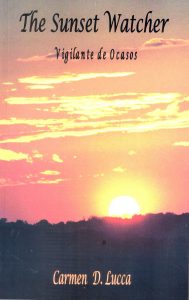 The Sunset Watcher/Vigilante de Ocasos, by Carmen D. Lucca
189 pages. Poetry reflecting peace in constant movement. Meditations on love, illusion, and death. Available by order from the Association for Puerto Rican-Hispanic Culture, Inc. Contact aphculture@verizon.net  718 367 0780
---
 LEAVE US A NOTE !
Hasta la proxima! Until then, happy reading!  If you read any of these authors, which we hope you do, drop us a note letting us know of your experience. We will gladly publish your thoughts it the following month for our readers.