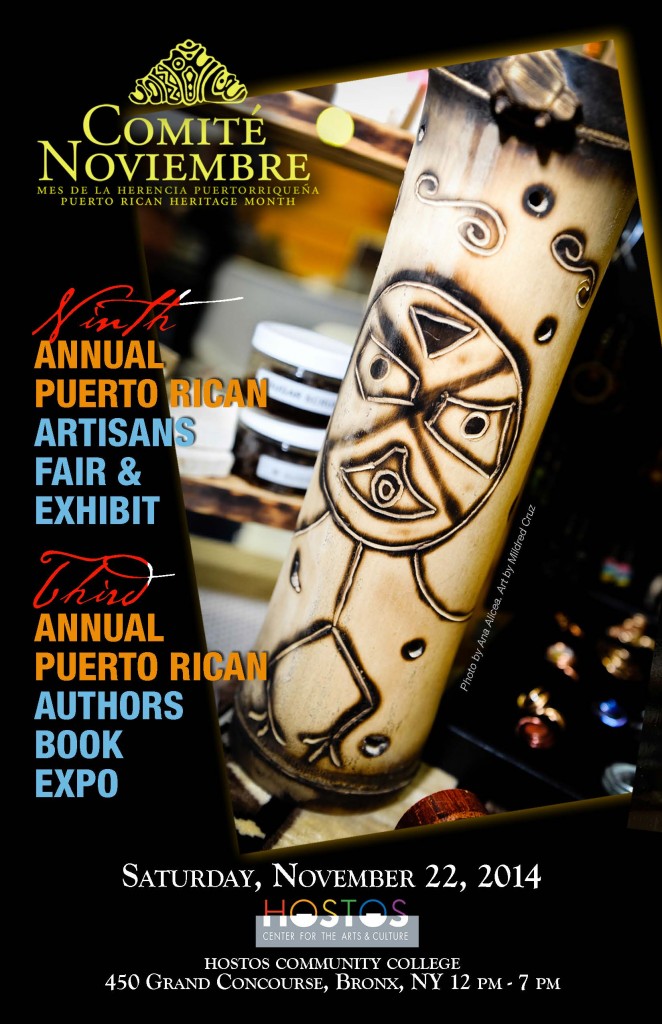 Photos of  the Fair/Expo coming soon!
Saturday, November 22, 2014
Hostos Center for the Arts and Culture
450 Grand Concourse, Bronx, NY 10451
This event is open to all Puerto Rican artists in what is the largest Puerto Rican Artisan Fair in the United States (outside of Puerto Rico)…We welcome all artistic disciplines that strive to continue traditions that are part of Puerto Rico's culture and history.
The Artisan Fair/Book Expo is sponsored by Comite Noviembre/PRIDA.  We can be reached at the following mailing address:
P.O. Box 456
Midtown Station
New York, NY 10018
Below is a partial list of participating artists. You can download the program for the day with contact information for all artists that met the deadline dates to participate here.
Artisans – Main Floor
Olga Ayala
Clifford Medina
Gilda Hernandez
Esperanza Martell
Pedro Brull
Johanna Cabrera
Julio Rodriguez
Carmen Ayala
Felipe & Rebecca Rangel
Marta Iris Rodriguez
Jose Rodriguez
Tanya Torres
Freebie Rivera
Freebie Rivera
Artisans – Gym
Luis Cordero
Francisco Vallejo
Lanie Ortiz & Luis Jordan
Milteri Tucker
Vinnie Dark
Migdalia Galarza
Tamara Saliva
Mildred Cruz
Nanette Sanchez-Velasquez
Mercedes Molina
José O. Ortiz
Juan Carlos Suazo
Milteri Tucker
Luis Pagan & Leenda Bonilla
Sara Morales & Vivian Lipman
Marta Medina Feliciano
Jenny Santiago
Elena Marrero & Candy Warixi Soto
Nellie Escalante
Yarisa Colón
Vincent Huertas
Vincent Huertas
Ty Ferguson Warren
Graciela Santiago
Nelson Febres O'Farrill
Rosa Santos Martinez
Yanira Zayas Torres
Irving Isaac Jimenez
Daniel DelValle
Eris Garriga
Lulu Garcia & Jesus Mangual
Ivelisse Pabón de Landron
Authors – BOOK EXPO
Maria Aponte
Juanita Colón
Arlene Davila
Maria Morales
Javier Winnik
Ivette Mendez
Adriana Erin Rivera
Naomi Pouchie
Monica Martinez
Nancy-Arroyo Ruffin
Yadhira Gonzalez-Taylor
Emilio Velez, Jr.
Alidis Vicente
Marisel Herrera
Rafael Rivera
Jose Angel Figueroa
Robert Friedman
Noel "El David" Rodriguez
Gloria Rodriguez
Axel Garcia
Myrna Nieves
Theresa Varela
Annette Perez
Manuel Melendez